the violet hour is a hipster lounge in our neighborhood with a whimsical energy and a retro vibe. inside, succulent cocktails are served amidst ultra-high wing back chairs, twinkling chandeliers and cascading cornflower blue drapes. outside, the air of intrigue is underscored by the utterly obscure façade.
there is no sign, no logo, no marker that it's there. just a collection of plywood panels that are regularly painted and repainted with interesting images and pop art iconography.
a few days ago, we were driving by and this scene caught my eye. the previously brown panels had been painted sky blue, and across the entire façade, a flock of birds appeared to flutter across the canvas. it was a cool graphic amidst the concrete cityscape. and yes, perhaps there was a bit of disney nostalgia that drew me to those cute little birds.
but as we drove closer, something else came into view. the black spray paint marring the idyllic scene. it's hardly the first time the site has been tagged—i mean, a blank city wall pretty much screams out to the gangsters and graffiti artists of the world. but it nonetheless bummed me out.
i started to go off on a tirade about mean people and frustrating circumstances and how, no matter what we do, crappy things are simply sometimes beyond our control.
…and then i noticed something else.
the birds weren't just placed randomly flying across the wall. they were nestled on the graffiti itself.
perched on top of the words. nesting in the cradle of the letters. and down at the bottom, a deviant chicken with a can of spray paint in his hand.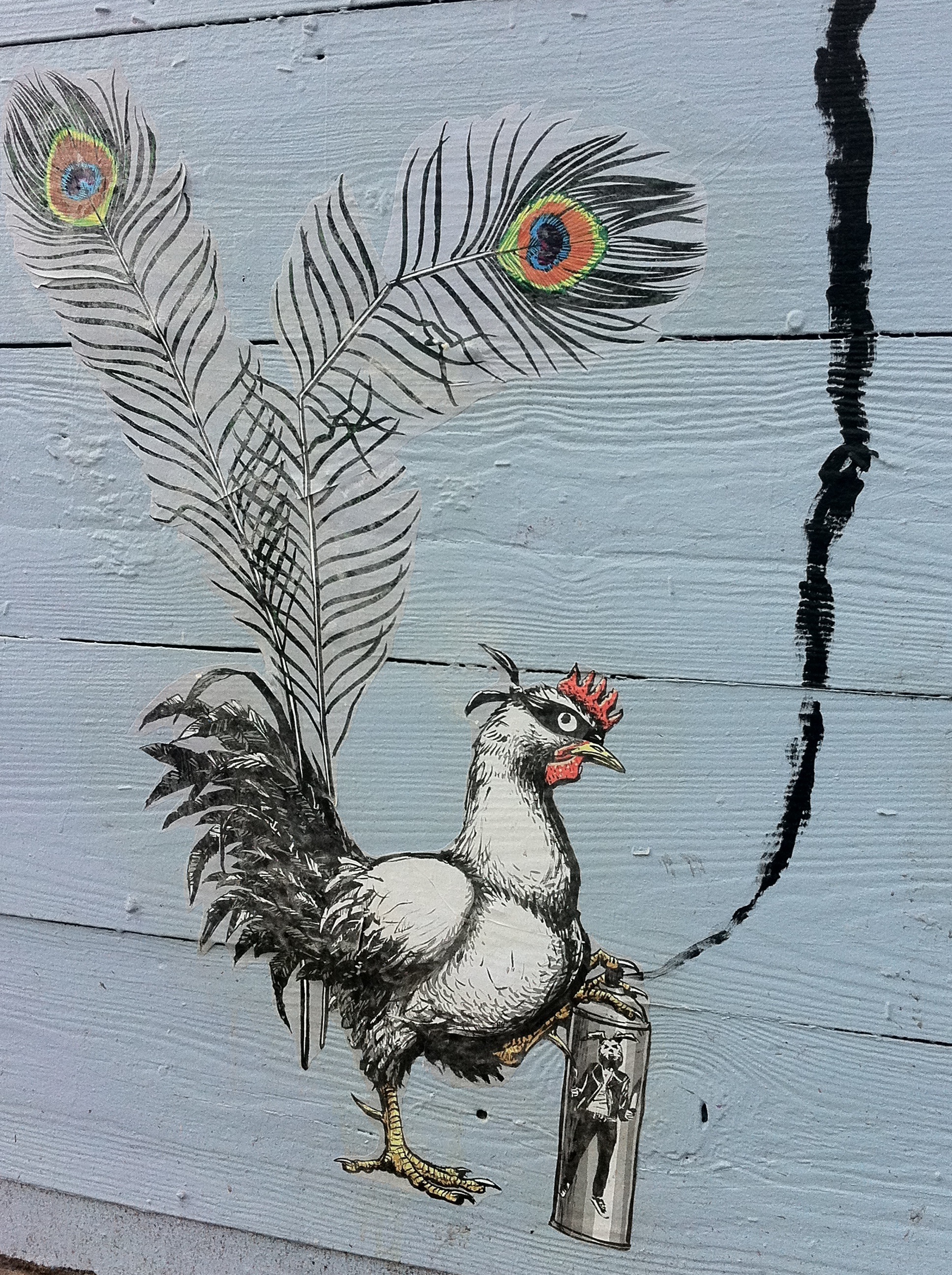 i realized that instead of rushing to repaint the wall immediately after it got tagged, the owners turned the graffiti into a part of the art. the writing became branches—the perfect stoop for tweety and his feathered friends. and there was the villain in all his "fowl" (buh dum bum!) err foul glory…it wasn't perfect, not nearly as pristine…but then again life isn't.
it was an awesome case of making lemonade out of lemons. sometimes we just have to deal. make the best of a bad situation. accept that shit happens. often out of our control. often to good people. but sometimes, also with a flipside. perhaps even an upside. the challenge is finding a way to make it work.